Dental Implants are the new-age mode of dental treatment. Now, even if you lose your teeth to caries or periodontal disease, you can still have that stunning and bright smile back with an implant placement procedure. With every passing day, revolutionary advancements of this field provide us with innovative and simpler solutions to make the implant placement process possible for every individual, from our elderly kin to our young folks. One such breakthrough advancement is a Zygomatic Dental implant– a special purpose Implant that can be placed even when there is a minimal jawbone. Read more about this latest product below.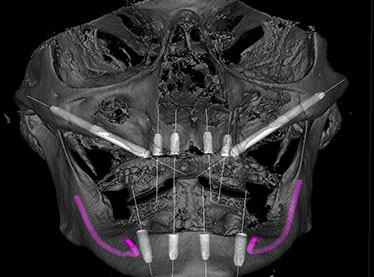 What are Dental Implants?
First, let us refresh our memory about the implants. Dental implants are surgical posts which when placed inside your jaw bone, fuses with it to subsequently support a dental prosthesis such as an implant-supported crown, bridge or denture. These are made with a variety of tissue-compatible alloys or metals and are assisted by several accessories such as abutments, gingival former, fixture and cover screw. They are employed to replace missing teeth in multiple scenarios ranging from tooth loss due to decay or periodontal disease to a gap due to accidental injury.
Now, there are varieties of Dental Implants, each ideal for a particular. Have a look at some Implant options below:
• Single tooth Implants
• Multiple Implants
• All on 4 Implants
• Zygomatic Implants
• Mini Implants
• Keyhole Dental Implants
What are Zygomatic Dental Implants?
These are unique type of Dental Implants. Zygomatic Implants are extra-long and are placed inside your cheekbones, also referred to as zygomatic bones. They come to aid when the bone of your upper jaw is not sufficient to hold a conventional Implant. The support from cheekbones will help anchor the prosthesis, rehabilitating the entire upper jaw as early as 48 hours.
The procedure is very convenient and is proceeded by a 3D implant simulation and planning. The high-tech tool helps to analyse and record your facial structure precisely, making the outcome predictable and accurate.
Benefits of Zygomatic Dental Implants:-
Highly useful to restore dental function and esthetics when there is insufficient bone in the upper jaw to hold any implant.
The implants attain anchorage bilaterally, providing enhanced support for your denture.
The implants are highly successful and will last a lifetime as they are placed within a thick and strong bone.
Taking support from the cheekbone adds additional strength and anchorage to your denture.
With Zygomatic implants, you can have your smile and confidence back within just 3 days.
The Bottomline
Implant dentistry has been a welcome change to our conventional solutions for missing teeth. A zygomatic bone-based implant is an added benefit on top of that. These implants are the best solution to opt for when your upper jaw bone is not adequate to support any usual implant. Zygomatic implants can fully restore and rehabilitate your dental functions within few days. So next time your dentist tells you that you cannot have implants because of poor bone in the upper jaw, discuss with him this superior alternative.