Missing teeth are not only unhealthy for the mouth but also impact the overall health and self-esteem of an individual. Teeth loss is a very common phenomenon and with advancements in dentistry, can be replaced very easily. The most common restoration options are traditional dentures and dental implants. Dentist in India offers both types of procedures that help in restoring the smile.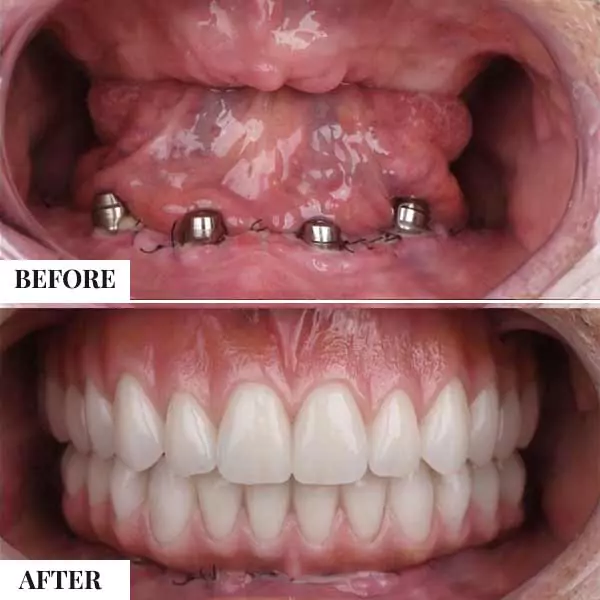 Dentures
Dentures are removable appliances that are made of pink gum-colored acrylic base. This base helps in supporting the denture teeth. The dentures in India include complete dentures, partial dentures, and flexible dentures.
Pros
Less expensive than implants.
Can be placed and removed by the patient as and when required.
The procedure of making dentures is non-invasive and quick.
Cons
Adjustments and replacements are required as the age advances.
The patient might face discomfort initially and there can be increased salivation, and difficulty in chewing and talking.
There is bone loss over the period of time leading to ill-fitting of dentures.
If the denture is ill-fitted, there might be chances of slippage while talking or eating.
Dental Implants
A dental implant in India is a permanent solution for replacing a missing natural tooth and has gained immense popularity in recent times. The implant is a titanium post inserted into the jawbone and replicates the root of a natural tooth.
Pros
Look like natural teeth and may last for a very long time.
The implant replaces the root of the missing tooth which helps in preventing bone loss and jaw shrinkage.
Preserves the integrity of the facial structure.
Very stable while speaking and eating and hence, no fear of slippage.
Easy to care just like the natural tooth.
Cons
Quite expensive as compared to dentures.
Invasive procedure as it is placed in the bone.
If bones and gums are not healthy, then there might be a need for bone and tissue grafting procedures.
The choice between dentures and implants has to be done carefully. Dental implants in India are costly as compared to dentures but are long-lasting and have more pros than cons. The dentures are affordable but may not solve the problem of jawbone deterioration. The dentists in Delhi will consider the age, dental needs, and the budget of the patient before selecting between the dentures and implants. The patient should discuss the dental and financial situation with the dentist before going ahead with any procedure. Restoration is completely a personal decision of an individual. But, with the advancement in the world of dentistry, the patients should surely update themselves.