Different people take the help of cosmetic dentistry for different reasons. The main reason being the improvement of the overall appearance. The dental veneers in India especially the porcelain veneers are known for their high esthetic value and helps in enhancing the look of an individual. The look of several teeth can be enhanced at once with the help of porcelain veneers. The porcelain veneers cost is slightly on a higher side but no so extravagant.
Porcelain veneers are thin-shell like structure that exactly matches the shade of the natural teeth. They are fixed on the front surface of the tooth resulting in a beautiful and dazzling smile. Porcelain veneers have numerous benefits that make it an ideal choice of treatment.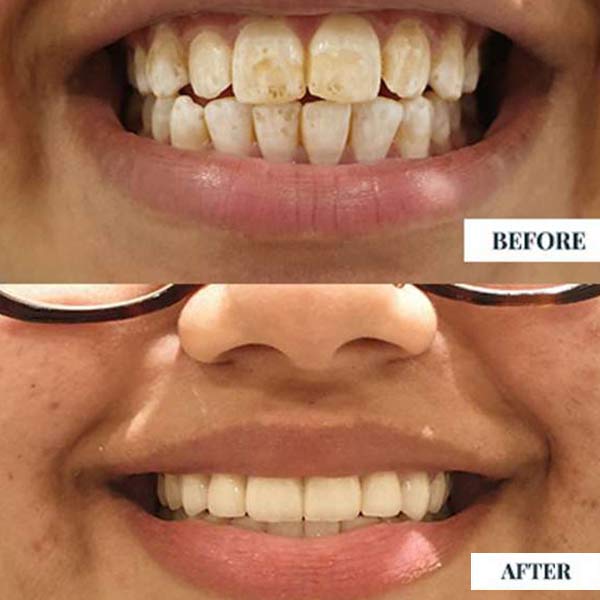 Benefits of Porcelain Veneers
1. Can fix small imperfections
The small cosmetic issues that are visible while talking or smiling can be easily fixed using dental veneers. Small chips or cracks, minor alignment issues, crooked teeth, stained teeth, and discolorations can be easily treated by porcelain veneers. If there is a slight gap in between two teeth, veneers are the best option to treat them.
2. Gives a natural appearance
The porcelain veneers are the first choice of treatment due to its natural appearance. They look exactly similar to the natural tooth that makes it difficult to differentiate between veneers and a natural tooth. Even the process of veneer placement is non-invasive.
3. Minimally invasive procedure
A very small amount of enamel is removed from the tooth surface in order to provide a room for the veneers. There is no need to shed off a lot of tooth structure which makes this procedure minimally invasive. Mostly, there is no need for anesthesia to do the procedure as very little enamel is removed.
4. Durable and stain-resistant
The porcelain veneers are highly durable. They are stain-resistant but it is important to remember that it is not stain-proof. Stain causing food and beverages can have an effect on the color of the veneer. But, it can be easily taken care of by maintaining proper oral hygiene. Proper care can make the veneer lasts for a long time.
5. Easy Maintenance
No special care is required for the dental veneers. Regular brushing and flossing are enough to take care of the veneers. This helps in keeping the veneer pearly white for a long period of time.
All these factors make porcelain veneer an ideal choice for patients who are looking for enhancing their overall appearance. The dentist can give a proper guidance and decide on the treatment plan after examining the oral cavity.